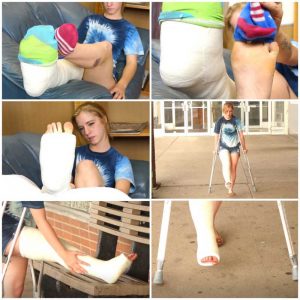 08.26.16 – Savannah showed up wearing some cute girly socks to the shoot, so I had her wear them with her cast and wiggle her toes and move her feet around before taking them off. That's the first half of the clip. Then she crutches outside in public. Also, she tries to pull her cast off at the end.
Resolution: 1080P
Running Time, 7 Min.
Price: $9
---

08.13.16 – Savannah is our newest model and she's a cute 20 year old girl next door. We did this shoot the day before yesterday and she showed up in these cute girly socks, so we used them on the shoot. In this gallery, she's modeling her LLC and sock covered toes and then she pulls them off to reveal her cute casted feet.
08.16.16 – Part two of Savannah's LLC is today's update. In this set, she poses up on crutches and then lays down to pose her casted leg in sexy positions. There's some great stuff in this gallery too. Log in now to check it out!
Get just the 200 image gallery in 10MP resolution for $10
---
Or bundle the pictures and the clip for only $18!