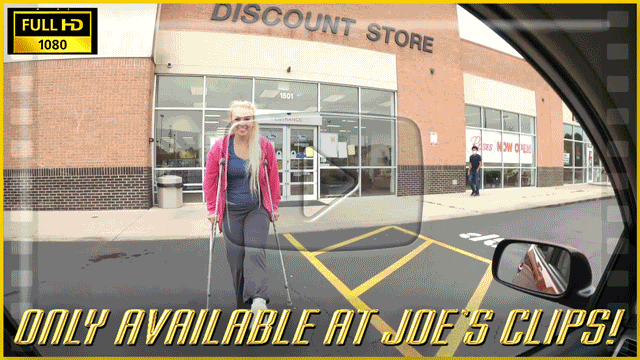 First we see Angel out crutching at a shopping center and then our car pulls up. She asks if we're her Uber and she gets in. She's got her pants pulled down over her cast and a big sock over her foot. She throws her cast up on the back of our seat and asks if the smell bothers us. She talks about her cast and pulls her pants leg up and eventually removes the sock, so her casted toes are propped up right by our head as she wiggles them. Later, after a stop, she asks if she can sit up front, so she props her cast up on the dashboard. At one point, the car brakes quickly and she hits her cast on the dashboard which hurts her leg and she's very upset. She makes us hold her cast for the rest of the drive and asks for a toe rub when we arrive at her place.

Price: $25 | 35 Min | 1080P
---
Or get the clip plus 180 images (and over 300 stills) from this shoot in 10MP resolution for $30!