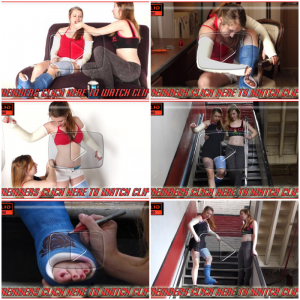 In this 6 clip collection, the beautiful Natalie is casted in a hinged LLWC and two long arm casts. Luckily she has a friend along to help her do everything. Her friend helps her eat and drink, change clothes and go up and down the stairs. Natalie crutches and walks on her LLWC in these clips. There's over 30 minutes of footage, so don't miss it! 
Resolution: 1080P
Running Time, 30 Min.
Price: $20
---
Or get the clip plus 50 images from this shoot in 10MP resolution for $23!