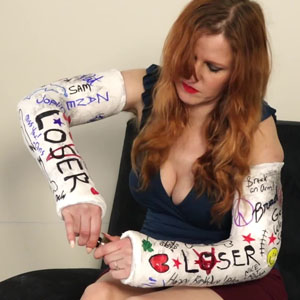 Ayn is in two plaster LACs covered in signatures. She started changing for pictures and after about a minute, I said "I should be filming this" and she agreed. So, after struggling to change clothes, she paints her toe nails and struggles to drink some water. Unfortunately the pizza guy never showed up.
Resolution: 1080P
Running Time, 16 Min.
Price: $10
---
Or get the clip plus 80 images from this shoot in 10MP resolution for $12!