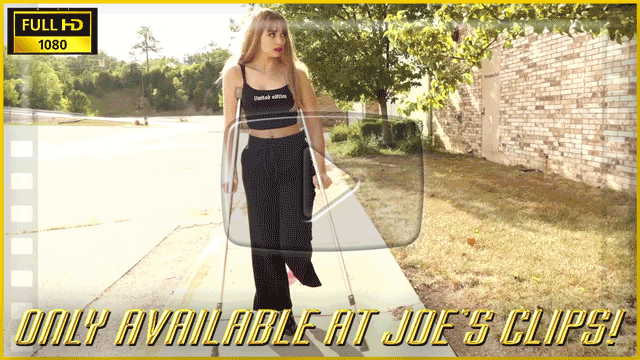 Tabitha's out crutching around in public with a dark red 90 degree LLC with foot turned inward and a boot. The video is supposed to simulate hanging out with her as she talks to the camera while crutching. At first, she's got her cast covered up with pants and a sock. After more than 15 minutes of crutching around the outside of the mall, she asks if you'd help her wash the car. Next, we're outside at a table enjoying a coffee together, with her cast up on the table, and she's complaining about her leg hurting… her meds are wearing off. Next, we're at a DIY car wash and Tabitha has changed into some short shorts and a tennis shoe, showing her entire cast. You said you'd help, but you stand back and enjoy the show as Tabitha spends ten minutes hopping around on one foot washing the car.

Price: $20 | 31 Min | 1080P
---
Or get the clip plus over 100 images from this shoot in 10MP resolution for $25!