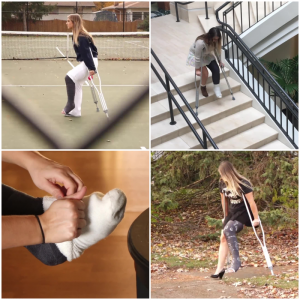 Enjoy this five great Victoria clips in one zip file download:
Clip 1: This clip is 10 minutes of Victoria crutching at the park in her black pointed LLC. First she crutches with a big pink sock on and then she takes a break to take off her sock and wiggle her toes on the park bench, then she crutches some more.
Clip 2: Here's some crutching footage of Victoria at the mall with a white sock over her cast. There's a nice long crutching scene on the steps shot from above.
Clip 3: This is a really nice toe wiggling clip with Victoria in her black LLC. She's back at home, peels of her sock and wiggles her toes around in different positions.
Clip 4: Victoria hops around the kitchen in her black LLC and yoga pants. She puts her cast up on a stool while doing the dishes, which looks great. There's some nice low angle shots of her cast as she hops around.
Clip 5: Victoria is now wearing a different outfit with a black skirt and black heel. Wait until you see the pictures of her in this outfit! She goes outside for some crutching.
Resolution: 1080P
Running Time, 30 Min.
Price: $20
---
Or get the clip plus 420 images from this shoot in 10MP resolution for $30!