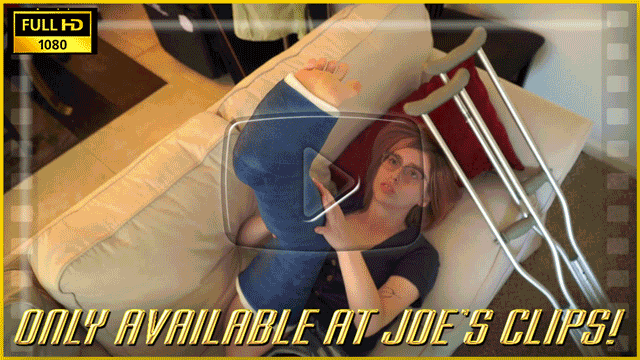 Welcome our cute new model Chase! She's a friend of Jessica Lynn's and she certainly has a lot of potential. I wasn't expecting to do much on this first shoot, but we got a lot of great scenes adding up to over 30 minutes of footage. This clip starts just observing Chase trying to cope with her new LLC. She is not happy about it at all and is having trouble getting comfortable with it. She tries propping it up on pillows, stretching and laying in different positions. She decides she needs to practice crutching, so she crutches around the house and heads to the kitchen to get a drink. In the kitchen she sets her crutches aside and hops around. Next, she's bored so she props her cast up on the kitchen table and calls to vent to her friend Jessica about her situation. Then there's a scene with her talking about her cast from her point of view. Finally she scoots up the stairs.

Bonus: The $25 BUNDLE OPTION below includes more than 500 pictures that you cannot see anywhere else!
Price: $20 | 36 Min | 1080P
---
Or get the clip plus over 700 images from this shoot in 10MP resolution for $25!