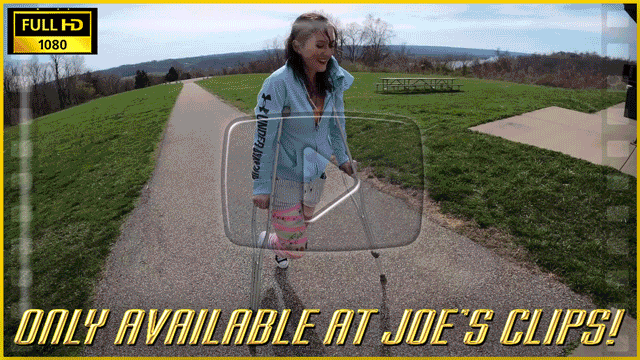 In this hot clip, Jessica has her tube sock covered, pink striped, faux term 90° LLC propped up on the table as she talks to a friend on the phone. Jessica is talking about how she just got out of a cast when her friend drunkenly fell into her leg and broke it again. Jessica says that she's casted more often than not and she's just very used to it now. As she starts talking about crutching, we fade into some outdoor crutching footage of Jessica in her tube sock covered cast. She crutches casually and then takes a seat to take off her sock for a minute and rub and air out her toes. She crutches some more and then takes a break on a picnic bench for some more sock play. She wiggles and rubs her toes, takes off her socks and wiggles them some more. Finally, she adds another layer before crutching back to the car. Finally, we fade back into the phone conversation with her friend. Her friend implies that Jessica seems to like being casted. Jessica acts offended by this. When the conversation ends, Jessica turns to the camera and asks "do you want to know a secret?" and tells you how she really feels about casts and how she really got her current cast!

Price: $25 | 39 Min | 1080P
---
Or get the clip plus over 500 images from this shoot in 10MP resolution for $30!