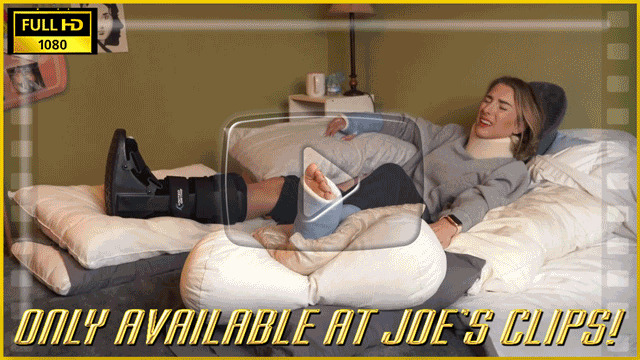 This clip starts out with Victoria in bed having just been in a car accident a few days ago. She's got a fresh arm and leg cast, a boot and a neck brace. She doesn't do much but moan and gasp in the first scene as the camera voyeuristically watches her in bed. She barely manages to itch her casted foot. Next, it's several weeks later and her casts are very dirty and covered in signatures. She's sitting in a wheelchair with her LLC propped up on a pillow. She talks about what happened with the accident and how she's been coping as the camera alternates between a wide shot and closeups of her casts. Next, it's a couple weeks later and her long casts have been reduced to short casts and she has a white SLC and a pink SAC. You're in bed next to her in the morning, checking out her one-week-old fresh casts. Finally, it's several weeks later again and Victoria's short casts are now very worn and covered in signatures. She's in the kitchen making a snack and then props her cast up to call a friend and talk about her casted experience. Later, in bed she knows you like her casts and tease you with them.
Bonus: The BUNDLE comes with over 600 pictures not seen on CF!
Price: $25 | 30 Min | 1080P
---
Or get the clip plus over 1200 images from this shoot in 8-10MP resolution for $30!