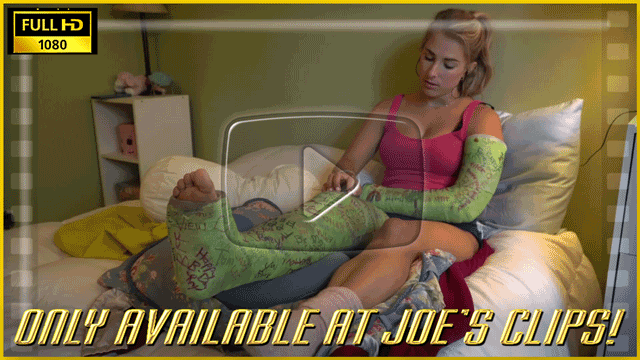 As soon as I heard about ASMR, I knew it would be interesting to do with casts. Even in some of the earliest videos, I ran the camcorder lens along the cast to capture the sound. Now with Victoria, I thought I'd try to do an entire scene with multiple microphones and see how it goes. Victoria is sitting up in bed with her aged LLC on some pillows, softly talking to herself about her poor casted leg and arm as she runs her fingernails up and down the casts. She knocks and taps her fingernails on her dirty old LLC and talks about how hard it is on the outside and comfortable it is on the inside. She talks about her cute casted toes and asks you if you'd take care of her. She takes off her sock and rubs her foot along the LLC. Victoria asks you to take care of her and rub her poor toes. So you get close and give her a nice foot rub! Let me know if you want to see more clips like this.

Price: $15 | 15 Min | 1080P
---
Or get the clip plus over 200 images in 10MP resolution for $20!