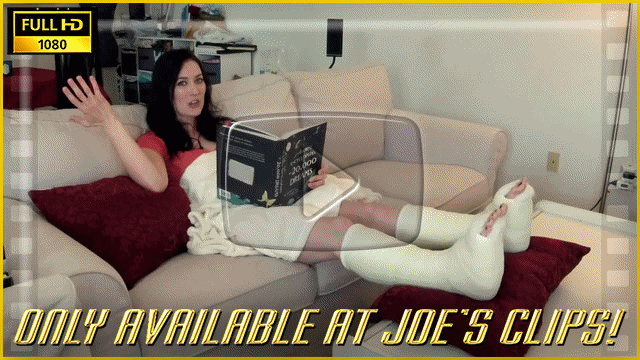 Today I have for you an epic 50 minute Jessica Lynn clip in which she's in two SLCs with toe spacers. You're her clumsy friend who is always accidentally hurting her. The clip starts out with Jessica talking about how you broke her toes (for the first time) with your clumsy assembly of the coffee table. She was already in two SLCs and they were almost ready to come off when the table collapsed on them, breaking her toes. She talks about all the casts she's had over the years (all her casts on CF) and how she hasn't been cast-free in years. She was so close until you ruined it. She didn't even think toes could be broken until this happened. She whines about it for a while until she gets in a better mood and remembers how you're always there for her to help her and worship her toes. She asks you to help her some more and you keep screwing up and hurting her feet and toes. You seriously can't do anything right, but finally you get her into bed upstairs and, after a major guilt trip, she decides you're not her personal foot slave. You happily obey her commands!
Price: $25 | 50 Min | 1080P
---
Or get the clip plus over 300 images from this shoot in 10MP resolution for $30!