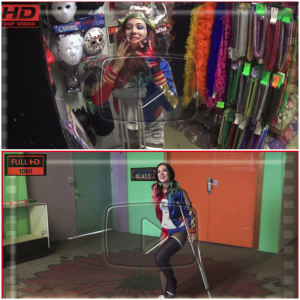 Jessica Lynn is in a black 90 degree LLC dressed up as a comic book character. In this first clip, she just practices crutching around the building, hopping up stairs and occasionally wiggling her casted toes for the camera.
In the second clip, Jessica goes Halloween shopping and I film her with a hidden camera crutching around a busy Halloween store. 
Resolution: 1080P
Running Time, 12 Min.
Price: $11
---
Or get the clip plus 140 images from this shoot in 10MP resolution for $16!